A Personal Training Approach to Stretching!
Stretching is one of those things we all know we should do, but we just can't seem to find the time. Either that, or we're not sure what to do past the few stretches we remember from gym class when we were kids.
No worries. We got you!
Through our Stretch Program, you have the option of dropping into our Saturday group class or scheduling a One on One Stretch Therapy Appointment in North Hollywood.
In our group class at Lift & Flow Performance we will rotate weekly through an emphasis on lower body (hips, hamstrings, etc) and upper body (shoulders, chest upper back) to ensure we're targeting your entire body.
By no means is this a passive class. You're not going to be pushed into things you can not handle nor will you just be hanging out in poses for hours on end. You will learn how to use YOUR muscles to get your body to move in the way you want and need it to move.
This class is great if you don't require a Personal Training style approach and if you enjoy working out with others, knowing they're going through the same thing you are. It is filled with laughter, top notch instruction and breakthroughs. You'll walk away one step closer to the mobility and flexibility you desire.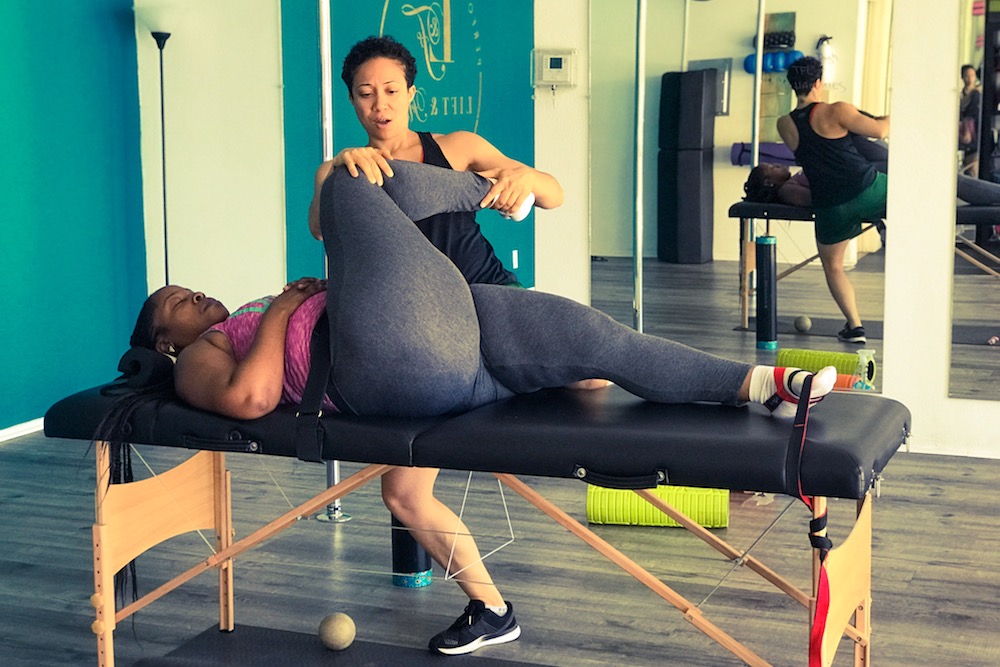 Why Stretch Therapy?
Private session Stretch Therapy uses Active Isolated Stretching (AIS) to help you move more freely. We use repetitive movements within the planes of the body to release restricted muscles and connective tissues.
This is not a session where a therapist is moving you into positions, but rather she is guiding you through movements painlessly as you activate your muscles to complete the movement.
You will feel as if you've gotten a work out, but more importantly you will be rejuvenated, refreshed and feel as if you're walking on clouds by the time you leave.
Some of the benefits include but are not limited to:
Increased Blood Circulation
Improved Mobility
Reduced Inflammation
Increased Recovery
Reduced Muscle Spasms & Tightness
Who is this for?
This is for the person who wants to be able to scratch their back with their own hands and not a back scratcher.
This is for the athlete who trains day in and day out, with little to no recovery and suffering from really tight muscles.
This is for the hard working individual trapped behind a desk, now experiencing chronic low back pain or hip pain.
This is for the person whose head and shoulders are so far forward they have chronic headaches and can no longer lift their arms to their ears.
If you identify with any of these symptoms or some related to them, but not listed, then give us a call so we can assess you and start working with you right away.